I'll always tell customers that it takes three weeks of consistent training, day in day out, to form a habit. Here we are three weeks in and I won't say I'm at habit status yet, but I'm starting to settle into a routine.
For the time being, the newsletter will be posted both on my website and sent via email, eventually I'll switch to email only. You can sign up for the weekly emails here: https://michiganrunning.substack.com/
Michiganders in Houston
Our state was well-represented on Sunday's record-setting morning. Unless you've been wallowing for a week over the woes of Michigan State basketball, Jim Harbaugh, Matthew Stafford, or Michigan basketball, you're surely aware of what went down in Texas. Keira D'Amato and Sara Hall were ageless wonders, each racing to an American Record in their respective full and half marathons. Our Michigan contingent shared some similarities as well. Time spent away from the sport and full-time work life can certainly hamper one's running goals and dreams – but only if you let it. Here's a few of the results that stood out to me:
Andrea Pomaranski, Wolverine Lake: 2:33:35, 10th Overall Female, 1st 35-39F
Nearly 10 years ago, Andrea was told by doctors that she should completely quit running. At the time, she had whittled her time down to 2:37 and had qualified for the 2012 Olympic Trials. After an osteoporosis diagnosis, her Trials dreams that year were shattered, but she was able to build back up and compete in the 2020 Trials. Her time here more than qualifies for a repeat appearance in the 2024 edition.
Kelli Smith, Grand Rapids: 2:34:09, 12th Overall Female, 2nd 20-24F
The former Cornerstone star has made a major leap post-collegiately. And that's saying something given her accolades, 10x All-American and 9x WHAC Champion, both across a range of distances. The NAIA is unique in that the marathon is contested as part of the national championship, this is where Smith gained her initial experience, in 2019, finishing 4th in the country with a 3:14. But you can see the tremendous drop in time here, 40 minutes. Have I mentioned she works full-time as a teacher?
Erica Shell, Franklin: 2:48:30, 36th Overall Female, 7th 30-34F
Ben Anderson, Ann Arbor: 2:37:08, 109th Overall Male, 5th 20-24M
Ben competed for MRUN while attending the University of Michigan.
John VerHagen, Royal Oak: 2:40:16, 131st Overall Male, 7th 20-24M
Friday night at the store, I was paid a visit by John, and he relayed that his goal was to break 2:40. It appears he fell slightly short, but I believe he still grabbed a PR.
Rich Power, Rochester Hills: 3:02:58, 6th 55-59M
Another ageless wonder.
Shipping Up to Cambridge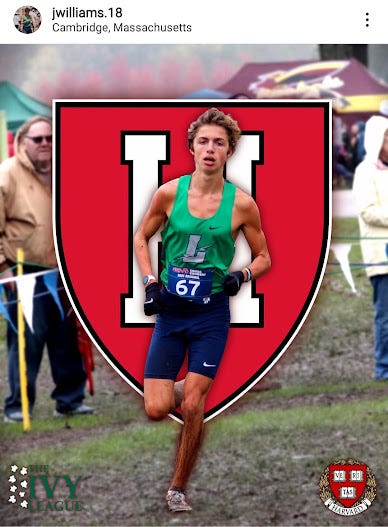 As we return back from winter break, the college signings are gaining momentum. Among the notable ones (and if I missed you – reach out):
Jeremy Williams (Lapeer > Harvard). Huge fan of this one. First, the Ivy League is a highly competitive conference and there is an aura with winning a Hep title. Second, for many athletes, running isn't the final destination, a career is necessary. Can't get much better than Harvard in terms of jumpstarting a career. Jeremy is obviously talented and motivated enough to compete there. State Meets in cross country either were taken away from him, destroyed by COVID, or didn't go his way. But he has a real shot of breaking 4:15/9:00 this spring. The question now is: will his brother follow?
Parker LaGro (Battle Creek Lakeview > GVSU)
Blake Chipman (Flushing > CMU)
Jason Fredricks (Byron Center > CMU)
Elise Book (Gaylord > Wheaton)
Taylor Imus (Portage Central > Lourdes)
Andrew Stern (Saline > Siena Heights)
Maddie Stern (Saline > Hope)
I think every level save NJCAA is represented here. Well done!
The Miles Brown Show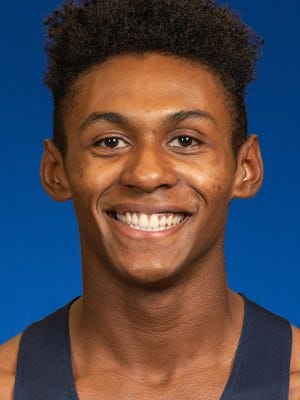 In just two meets, Miles Brown has shown himself to be the revelation of the indoor season. This should come as no surprise given his HS career. He was thrust upon us as sophomore, winning a state title in the 800m. At this past state meet, he dueled with Hobbs Kessler in both the 4×8 and 800m. The talent has always been there, the question is when would it show out? Viewing the entry list prior to the Simmons-Harvey Invitational, I saw the matchup with Brown and Parker Raymond (Rochester Adams) and knew it would be a hot heat. In search of an opportunity to run, Raymond transferred to Indiana last winter, a move that turned out in his favor. At the 2021 Big Ten Indoor Championships, he finished 7th in the 600m and in May, qualified for NCAA indoor with a blazing 1:48.07.
Anyhow, the race. You can see the final bit of the race here, before the final stretch, Raymond took it out hard with Brown on his tail (24.4 to 24.6, 50.1 to 50.6) before Miles took over in the final lap. 1:16.98, 6th fastest freshman ever, stadium record, meet record, Michigan record. And just glancing at this list, he's very close to some prominent names, ahhh I won't get ahead of myself.
Also good to see Cole Johnson come through on the final lap as well. His 1:17.98 is a great start to the season and a building block in the path to getting under 1:50.
Other Indoor Results:
College: Simmons-Harvey, SVSU Classic, Bob Eubanks, Trine, Defiance
High School: LAB, SVSU, Hillsdale, Morolake Akinosun
Other Happenings
Klaudia O'Malley (McBain, GVSU) was featured in this month's edition of The Oval Magazine. The interview dives into her race at Nationals (2nd place) and her decision to attend Grand Valley. Flip to page 13 to read her words. And while you're there, check out the rest of the publication!
The Boston Marathon field was released over the course of last week. With no London Marathon, Boston is the main race to point to between now and the World Championships. The field is a who's who of American distance running right now (Seidel, Taylor, Hall, Fauble, Ward, Riley). There are some Michiganders in the bunch as well. Des Linden is back for another run, it's hard to imagine there will be a Boston where she's not a presence. Sydney Devore is also listed. Devore definitely fits the theme of a comeback story. She had run for the University of Florida for a bit, decided the fit wasn't right for her, and was out of the sport for a while. She returned with a vengeance, winning the 2018 Pittsburgh Marathon in 2:32. She most recently competed in October's Boston Marathon, coming in as the 32nd American woman with a time of 2:40.
Speaking of marathons, Marlette's Riley Ford competed in the Museum of Aviation Marathon in Warner Robins, Georgia. After a disappointing finish in last year's NAIA Championships, Riley wanted to have a successful experience in the final miles of the marathon distance. She started conservatively, going through the half in 1:38, but closed with a few sub-7's, knocking out a 3:12:36. Hopefully there are some lessons learned that will serve her well in May.
The LAB has announced that they will be hosting the Midwest Invite on February 11th/12th. The meet is a bit different than our typical MITS meets. The entry fee will be a bit higher but the payoffs are more than worth it. Coverage by FloSports and auto qualifiers to New Balance Nationals.
White Lake Lakeland's Grace Stark was named National Athlete of the Week by the USTFCCCA. Her 7.86 in the 60m hurdles ranks third all-time amongst collegiate athletes.
If I missed anyone or any accomplishments, please know it wasn't intentional. I'm making it a point to write down anything I see, however there is always the chance that I forget or skip over athletes. Please feel free to send me a message or email.