Welcome back for another week. I *think* we should be on the better side of the weather, at least here in Southeast Michigan. More sunlight, less snow, more 40+ degree days, all heading towards the pinnacle of the indoor track season.
I thought I'd write about a few matchups to look forward to over the weekend, but also try to cover others that have opened up their hearts to the internet.
If you'd like this sent to your inbox every Wednesday morning, subscribe here: https://michiganrunning.substack.com/
MITS Indoor State Meet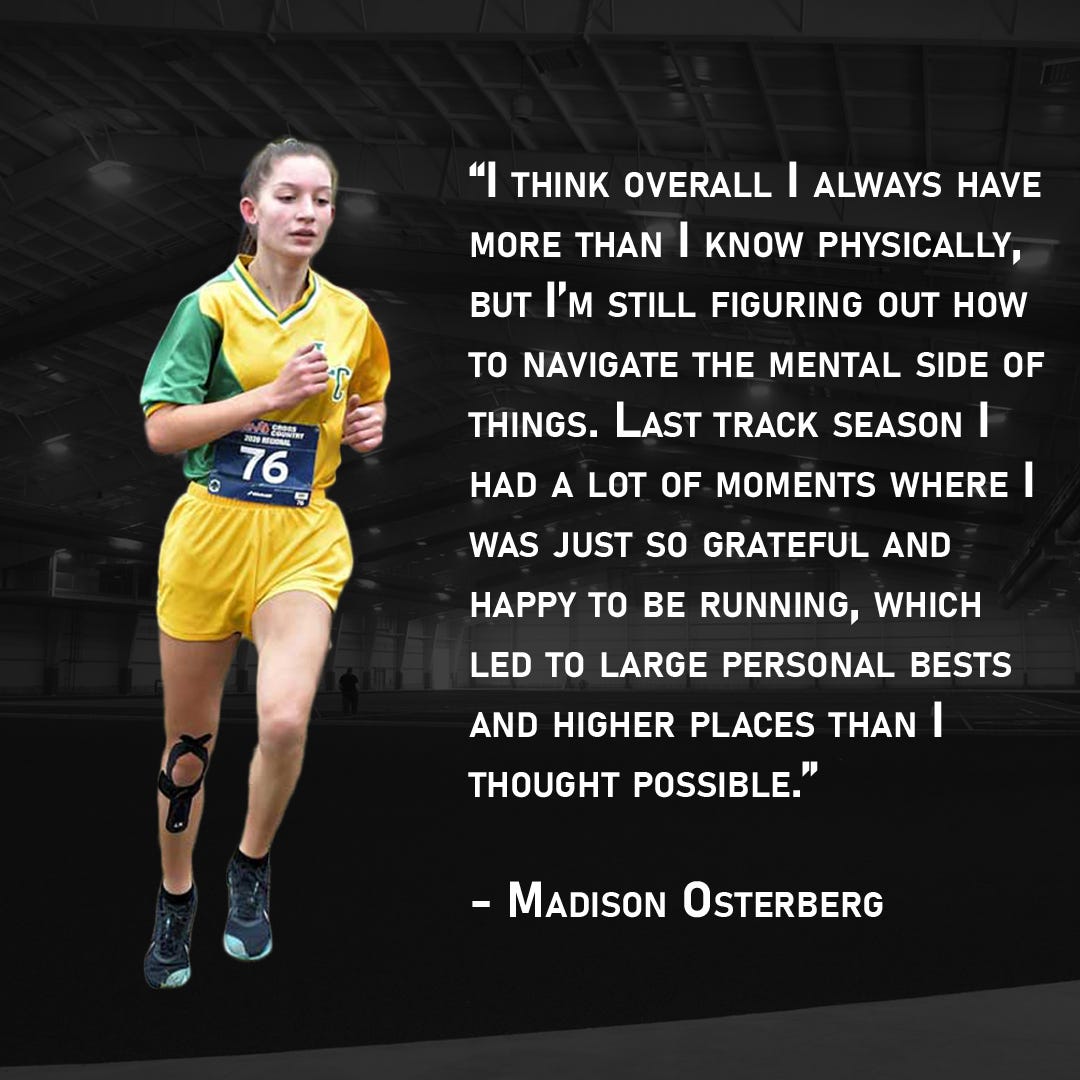 Benny Diaz vs. Tamaal Myers. East Side vs. West Side, I like this. But is Detroit really "East Side"? Detroit is just Detroit. This past weekend, Diaz went down to Kentucky and laid down a 7.86, good for #4 in the nation. Myers hasn't lost a hurdle final since August, where he was able to receive AAU All-American honors. One of those wins was at the LAB Midwest meet, but I believe that was a re-run of a race where the results mysteriously vanished.
Track Life vs. the world. Anyone who follows any twitter drama knows of the tense relationship between Track Life and the LAB. Those Outer Drive girls are good enough without a chip on their shoulder. But with one? Expect to see Jackson, Burr, and the rest of their crew flying around that Ypsi track.
In part two of reaching out to athletes telling THEIR stories in THEIR words, Madison Osterberg of Jackson Lumen Christi was kind enough to let me ask her a few questions regarding her plans for the MITS Indoor State Meet and also her journey through the past year.
Last track season, you had a bout with covid, then came back stronger, finishing 3rd in the 1600. How were you able to experience so much growth in such a short time?
My indoor season last year had so much growth. My speed, mental strength, and love for the sport increased so much. Even though it didn't show up as much in my indoor races, I believed that it was there and that I was capable of so much more. The most difficult thing about having covid was the mental side of it. It left me with an anxiety that isn't constant anymore but almost always shows up pre-race. This always affected the event that I focused on the most. Last year going into the state meet, I believed that I had a shot at the individual title in the 800 and a team title in the 4×4.
There wasn't much pressure on the 1600 because I didn't even know if I'd be all state. I never would have guessed that I would run a 6 second personal best and place 3rd in that field with the hot conditions. I think overall I always have more than I know physically, but I'm still figuring out how to navigate the mental side of things. Last track season I had a lot of moments where I was just so grateful and happy to be running, which led to large personal bests and higher places than I thought possible.
In the elite mile at GVSU, you were able to set a mile PR. What have you been working on this winter?
Once I got into the elite mile, I wanted to start training like I belonged. During winter break, I was doing some of the hardest workouts I ever have. I'd finish them in disbelief that I was able to hit the right paces. After it was postponed a few weeks, I was definitely disappointed because I believed that I was in great shape. The disappointment was short lived as we soon ran a time trial and I, with the help of my teammates, ran a personal best of 5:06. This was a much-needed confidence booster. Both the time trial and the elite mile were pretty consistent, so I know I've improved a lot at pacing, which is something that I struggled with even in my best races last year. I think the improvements this indoor season primarily come from the consistency in workouts and the focusing on the small details while making sure to not overtrain. No matter how I'm feeling at a given moment, I've been really trying to trust God's plan and trust the process.
Which events are you running at indoor state, and do you have any goals or expectations?
I'm planning on racing the 1600 at indoor state. I considered racing the 800, but a back injury caused me to sit out my last couple of opportunities to qualify. The goal is definitely to go sub-5 in the 1600. I believe that I am capable of it and I know it depends on how I go into it mentally. No matter the outcome, I'm thanking God for the opportunity to compete and for quick healing from my injury. I was able to compete at indoor state last year and had such a blast, so I am just excited to be competing.
If it appears that I favor those Lumen Christi girls, it's true, I do. The back and forth, they support what I do, I can't help but support what they do. Thank you, Faith and Madi.
Big Ten
Michigan's mid-D crew vs. Iowa. Checking the meet schedule, it seems impossible that any combo of the 400/600/800 double can be performed. The Hawkeyes currently own three of the top five times in both the 400m and 600m, Michigan has a range of performers from 400m specialists (Dubem Amene), 800m specialists (Cole Johnson), and Miles Brown, exceptional at both the 600m and 800m. How the Wolverines split up their trio could help out teams such as MSU and Nebraska in an upset over the #9 ranked Hawkeyes.
Jenna Magness vs. the Hasz sisters. Neither of the three have raced much or matched up this indoor season, but Bethany had the upper hand in NCAA Cross, and Megan in Big Ten Cross. Magness comes in with the fastest 5k time and is seeded 3rd in the 3k (though her 9:05 was run on a 200m track).
Of course there's also Aurora Rynda and a possible matchup with Alison Johnson and the same for Beadlescomb vs. Hacker. We're really well covered with our Big Ten schools in both genders/all aspects of the distance events.
GLIAC
Grand Valley's 800m men vs. NCAA qualifying. Grand Valley harbors hopes of an indoor crown, a necessary addition to their score will be some points in the 800. As of now, John Groendyk is a lock, but they may need a few more qualifiers. Scott Spaanstra and Dennis Mbuta have both run sub-1:50 in the past, they'll need to be in that range to compete in two weeks.
Makayla Sumrall vs. Alona Olshevska. Last week, both had a knock down, drag out battle in the 60m, Sumrall prevailing in a time of 7.48. The Roseville grad has turnt it up this winter, with victories at the SVSU Classic, Mike Lints, and the GVSU tune up. Olshevska was recently named GLIAC Athlete of the Week for her all-around prowess. She holds the top marks in both the 200m and 400m, along with her #2 spot in the 60m.
MAC
How many events can Baldvin Magnusson win? He holds the top times in the MAC in the mile through 5k, with quite considerable margins in each event.
Can Western or Central pick up a victory? Hayley Manners, Mohogany Wells, and Grace Johnson are all ranked in the top 5 in their respective events.
MIAA
Will Adrian's Derek Plitt pull off victories in the 60/200 double? He was able to capture the 200 crown last February and was All-American in that same event in both indoor and outdoor.
Does the title stay in Holland? Hope College is buoyed by the efforts of Grace Behrends and Ana Tucker, two racking up points that set up the Flying Dutch as prohibitive favorites.
WHAC
The WHAC Championships were held this past weekend at Aquinas. Unfortunately, the evil Indiana Tech took home the trophy on both the men's and women's sides. Michigan executed a fairly clean sweep of the distance events, but that's often not enough on the track, Ind Tech's clear domination of the jumps and sprints were the deciding factors. I have to call out the distance event winners – Cornerstone's Colten Covington, Cammie McConnell, Anna Martin, and Luke Pohl. While Cornerstone took home their share of the longer events, Aquinas did their part in the mid-distance area, with Clayton Jones, Grace Sweet, and Caleb Hodgkinson. I was also impressed with Lawrence Tech's Jackie Albo finishing 3rd in the 800. It seems as if Coach Tate is building a winning program. People might scoff at the thought of Lawrence Tech at the front, but the guy has won at every stop he's coached.
I love that this is a regularly occurring feature, College Choices
I'm not sure if it was the mid-winter break or a conscious decision for everyone to announce during early February, but I saw less commitments compared to previous weeks. Paying more attention to the intersection of art and sport, I did take notice of Ian Thompson's pledge to MSU, very well done. Other ones that caught my eye were:
Lauren Sancrant (Temperance Bedford > Western Michigan)
Aubrey Migoski (Wyandotte Roosevelt > Wayne State)
Jimmy Peabody (Ionia > Aquinas)
Spreading Their Message
Over the past few months, Maggie Farrell (Battle Creek Lakeview, Michigan State) has been guest blogging for Running in Silence. For those unaware, Running In Silence is a non-profit, founded by Rachael Steil, focused on raising awareness towards disordered eating. Rachael has written for various running magazines, authored her own book, and speaks to many local athletes about her story. I can't help but think that one person sharing their struggles empowered others to share theirs.In three blog posts, Maggie has shared her own experiences with eating disorders, going back as far as elementary school, extending into her collegiate running. She embarked on a mission to run the Austin Marathon and in the process, raise money for Running In Silence. According to her latest Instagram post, $3600 has been raised, which will pay for 4 eating disorder awareness and prevention presentations. But the gofundme is still up, so I'm sure they won't turn away your donation! You can read Maggie's posts on the Running In Silence website and donate here.
In a blog post for The Trek (basically the hiking equivalent to MIXCSR… I kid) Chris Taylor (Bloomingdale) announced their intentions to hike the Appalachian Trail. As someone who adores hiking, paths, maps, the woods and mountains, I'm extremely jealous. Embarking on such an endeavor comes from a different place for everyone, for some wanderlust, for others searching for a deeper meaning. Chris writes a deep dive into the why and I look forward to future writings.
Through Sara Kroll's twitter responses and his own astounding results, Morgan Beadlescomb appeared on last week's Citius Mag podcast. I appreciated how candid he was. I think many people go on these podcasts and are shy about details – rightfully so, it's a huge stage and opening up to the nation is daunting. But Morgan was open with what he's expecting from NCAA's and his strategy going into the final lap in Chicago. Also, one must have appreciation for him wanting to bring a title home with his teammates as well.
Anything Else?
Quite incredible the depth of distance running in this state, Gazelle's Elite 3200 another point of evidence. Rachel Forsyth, Riley Hough, and Arianne Olson all raced to the top-10 all-time. What sticks out to me are those that will be in All-State contention, but aren't yet national class. Frens 10:32, Williams 9:08, Sarah Forsyth 10:27, Venhuizen 9:12. All of which are faster than they were during outdoor 2021, with three months less of training effect.Indoors, from 2015-2019, there were on average 9 boys sub-9:30 and 12 girls sub-11:00. This year, before we've even had all parties meet at State, we're at 14 boys and 17 girls under those marks. I know super shoes exist, but we're already so far ahead of schedule.
Anavia Battle (Wayne Memorial) was named National Athlete of the Week by the USTFCCCA. Battle has been steadily decreasing time in her 200m performances, running 22.49 this past week. If you recall, she competed for the US in last year's Olympics. At this point last season, her season best was 22.88, so look for her to battle with Abby Steiner in the coming weeks and also be a factor come US Championships.
It was cited in the podcast that Michigan State would travel down to Notre Dame to get a qualifier for NCAA. At the Alex Wilson Invite this past weekend, the Spartan squad ran 9:26, which currently places them 13th, likely on the outside looking in. But we did have a Michigan squad stand out with their performance. Nick Foster, Dubem Amene, Miles Brown, and Cole Johnson will be representing the state in the DMR come nationals.
I've gotta give a shoutout to Amber Gall. The Shepherd grad has had a few setbacks since stepping foot in Ann Arbor, among which, a hip fracture that occurred at this point last year. Her 2:10 from the Alex Wilson Invite isn't close to her personal best, but I imagine it was one of her more satisfying performances.