On March 13th, Martina Reyes, a junior from Livonia Churchill who ran cross country this past fall was involved in a car accident. She had to be pulled from the vehicle using the Jaws of Life and was transported to Mott Children's Hospital. Thankfully, she is still here with us, but has sustained multiple injuries and will require multiple surgeries, along with around the clock care. A GoFundMe has been started to help her family with medical costs. Please donate if you can.
Indoor Championship Season – High School
This past weekend, many Michigan athletes and schools traveled cross the country for their various national championships. Division 1 to Birmingham, Division 2 to Pittsburg (no not that Pittsburgh), Division 3 to the Fast Tracks of South Carolina, and our high school kids took in the Big Apple. Among them, you had team champions in Grand Valley State's men, new national records from Purple Track Club and Grace Stark, numerous individual champions, and countless opportunities for our athletes to show themselves out on the national stage.
Browsing the coaching forums on the internet, you'll always find a few complaints with the amount of national championship races at the high school level. Not here. Without a powerful overhead body, it'll be tough to have one consistent national championship, whether that be for track or cross country. With shoe companies looking to spend for influence, they will try to get their name on national events as well. As a result, this past weekend, you had two "national championships" in the same city, a 100 minute subway ride away from one another. You know what that created? MORE OPPORTUNITIES for our athletes to compete. I'm all for it.
It would be impossible to digest all the performances from NYC, but if you're looking for a quick summary and where each effort stood in the history books, check out Jeff Hollobaugh's twitter threads: NBIN Sunday, Nike Sunday, NBIN Saturday, Nike Saturday, and check out the rest of his feed for Friday highlights.
A few highlights that stood out to me were:
Hunter Jones solo'ing a 14:20, winning the 5k title at Nike. We had a conversation earlier this winter where he admitted to struggling in the middle of races and that being a point he was working on during training. We saw evidence of that in Ypsilanti a few weeks ago and further evidence here, where he won by 35 seconds. His paces slightly slowed in the later miles, his splits being 4:30, 4:41, 4:38, but a year ago, that 4:38 would've been 4:58.
Our hurdlers, Benny Diaz, Nonah Waldron, and Tamaal Myers II. Each laid their stamp on the 60h at the Armory, with Waldron winning, Diaz and Myers both placing in the top 8.
The Alma contingent at Ocean Breeze. Come Fall 2023, watch out for this distance squad. The Lebron Distance Project is in full effect over there, Gene heading up at the high school level, Allie at the middle school level, and that combo led to four of their middle school kids running 5:10 or better, headed by Thomas Larson's 4:44.
The Purple Track Club. We're well familiar with the Pioneer girls at this point, but we hadn't seen them lose. They did Saturday night, to a worthy Flower Mound squad. In case anyone was curious how they'd respond, another National Record, 8:51 in the 4×800 was the answer.
Of course, there are many more. I could just list results, but that wouldn't tell everyone's story. I did reach out to a girl whose story I adore. Talent, injuries, victories, failure, this girl has had it all in her career and she just keeps on rolling with the punches. Those familiar with me know that I'll always root for the underdogs, antiheroes, those that aren't perfect and haven't had every break go in their favor. Thank you to Lani Bloom for letting me toss a few questions her way.
You've always been a bit of a star in Ithaca, running with the HS team as a middle schooler and on relays at Indoor State. With that early success, many kids might have a big ego, but you don't. How have you, along with Coach Lebron managed expectations and continued to stay motivated?
I think what's kept me motivated throughout my career is how (Gene) Lebron creates such great competitive mindsets in everyone on the team. For me personally, he taught me that there's always something I can do that will make me faster, whether it's sleeping an extra hour at night, running slower on an easy run, or pushing the 3rd lap of a mile. It's helped me stay focused on improving myself as an athlete rather than just improving my times. It also helped to keep our expectations and egos in check because no matter how great everything is going, you can always improve something.

Between your sophomore year of cross country and indoor track, you underwent a huge improvement. To what do you attribute that leap?
My sophomore season ended fairly badly, which made me realize I was really neglecting the things I needed to run fast like food, sleep, and general confidence, and happiness. Between those seasons I made a ton of goals to make sure I would come out stronger. I ate probably 2 to 3 times as much, slept more, and started pushing myself more to make my efforts and recovery good quality. I also attribute a lot of my success to my team, we got insanely close that winter and when a whole group shares the same desire to get better is when things like my jump happen. *I love that last point. Much individual success is owed to the team environment*

You've really brought it in championship meets, both on the state and national stage. What allows you to get in the right mindset on race day and be able to compete to the best of your ability?
I really try to treat big races the same as small ones and just enjoy the opportunity to run. I get intensely nervous sometimes, but usually talking to my coach and reminding myself of the all the work I've done to that point is going to pay off helps me zone in and focus on going to the line ready to just run because I love running. I try to start every race thinking that I'm ready to show people how hard I've worked.

Every big race I've seen you run, you take it from the gun. But here, it was a bit more tactical and you came from behind. Can you let us know how the race unfolded and what was going through your head on that final lap?
(You can watch the last lap video here)
I really did not expect to be leading that race. I know that in elite races like that one it's either a tactical sit and kick race or an intense fight from the beginning. When I took the lead, I was scared that Addison would do exactly what she did and make a hard move at the end. I spent the whole race preparing to respond to it and when she went for it, I knew I could either give it my best shot and either win or die trying. I'm glad my kick held up against hers.

What are you looking forward to in outdoor track? Any big goals or races you're shooting for?
For my last track season, I'm really focused on enjoying my time and preparing myself to go to college. My main goal is to go to every meet and do something to make myself a better athlete or teammate. I'd really like to run at Brooks PR and Hayward this summer, but Lebron and I decided that one step at a time is the best approach to these things so I can be ready when nationals season does come around and still get the most out of my last high school season.
Indoor Championship Season – College
You know I love a good chart.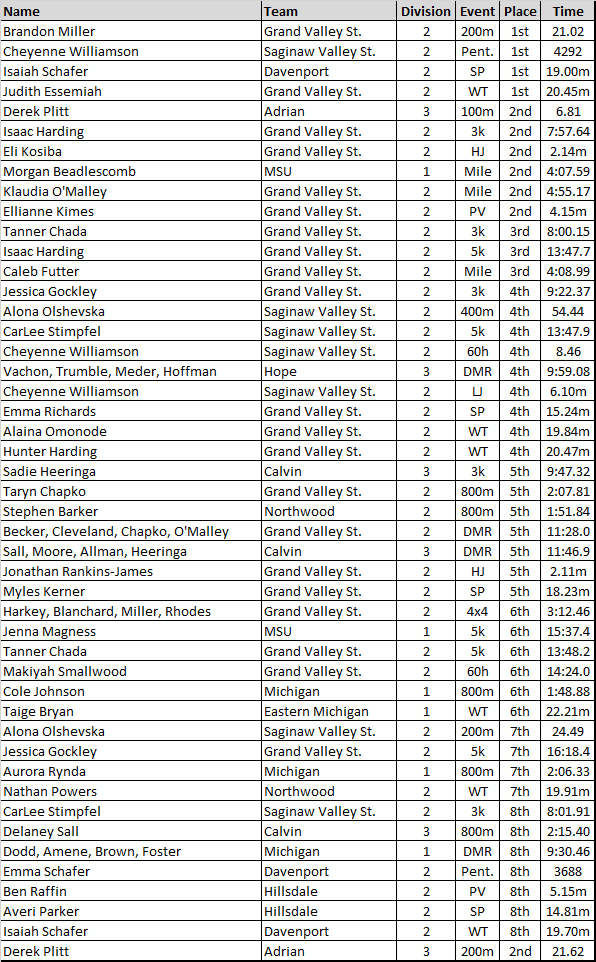 I was completely wrong when I tied Grand Valley State's men's chances to getting points from the 800. The Lakers did clean up in the distance events with Isaac Harding, Caleb Futter, and Tanner Chada racking up 29 points. But it was the other events that contributed to the trophy finding a home in Allendale. Brandon Miller's 200m victory, Eli Kosiba in the high jump.
What about Cheyenne Williamson? Two consecutive pentathlon titles and she wasn't finished there, notching All-American honors in the 60h and Long Jump. MLive had a good roundup detailing the Cardinal performances.
I spent much of Friday and Saturday watching Division 3, mainly because the D3 Glory Days folks did such a great job in their coverage. Division 1's coverage had lapses, blank screens, and coverage breaks. Division 2, a robotic announcer who was shocked any time a top seed lost. The high school races were an impossible ask for anyone to cover with the sheer volume of competitors.
But Division 3 absolutely nailed it. Back stories, analysis, and intimate knowledge of the racers. We were treated to some thrillers, both Calvin's women and Hope's men in the DMR Friday night and Derek Plitt in the 60m/200m Saturday evening. Plitt particularly had me on the edge of my seat. In the 200m, with a 6-lane track requiring a 2-section final, his 21.62 in the first section looked to have a great shot at victory, but sadly he was outperformed in the second section. I love a good 200m track, but that's a major drawback in a championship race. You can watch the DMRs here (starting at the 5:04:00 mark) and the 200m here (starting at the 2:14:00 mark).
Practice Has Begun!
Jacob Tanner provided a great preview of the distance events, two hundred seventy freaking three pages long. I thought I'd cover something a little different, the division switches this week and regional changes/state qualifiers next week. Some of those moving up in division (for instance, 4 to 3) may not appear as if they have times that compare, but as I always say, winners win. When the competition level rises, so do the competitors. Here's a few people and teams that may shake up the pecking order in their current divisions this year.
Moving to Division One
Coldwater – From Division Two
Cameron Torres – 20'7 Long Jump, 18th Indoor State 60m
Flint Kearsley – From Division Two
Brendan Schanick – 48'7 Shot Put, 7th D2 State Shot Put
Tyler Csintyan – 6'0 High Jump
Sturgis – From Division Two
Rasean O'Tey – 11.30 100m
Brenden Myers – 11.31 100m
Jamiel Brown – 19'8 Long Jump, 2nd Indoor State Triple Jump
Korin Whitcomb – 5'6 High Jump, 2nd D2 State High Jump
Moving to Division Two
Detroit King – From Division One
East Grand Rapids – From Division One
Camryn Bodine – 59.3 400m, 2:14 800m, 5:03 1600m, All-State XC 2020, 15th D1 State 800m
Claire Weaver – 60.5 400m, 16th D1 State 400m
Drew Muller – 4:55 1600m, 10:46 3200m, 2x 5th Place XC State, 8th D1 1600m
Abigail Petr – 5:14 1600m, 11:14 3200m
Ainsley Workman – 5:02 1600m, 11:07 3200m, 4x XC All-State
Frances Hoffman – 48.3 300mH, 16'0 Long Jump, 17th D1 State Long Jump
Thea Newkirk – 11'0 Pole Vault, 7th D1 State Pole Vault
Pinckney – From Division One
Caleb Jarema – 1:59 800m, 4:12 1600m, 8:59 3200m, D2 State XC Champ, 6th D1 1600m, 5th D1 3200m
Lucas Pasternak – 15.8 110mH, 42.5 300mH
Andrew Otberg – 6'1 High Jump, 11th Indoor State High Jump
Cecelia Thorington – 2:29 800m, 5:24 1600m
Mallory Farmer – 27.1 200m, 59.6 400m
Richland Gull Lake – From Division One
Zeeland East – From Division One
Caden Meyer – 9:33 3200m, 11th D2 State XC, 6th Indoor State 3200m
Aidan Taylor – 54'5 Shot Put, 163'6 Discus, 4th Indoor State Discus, 6th Indoor State Shot Put
Ily Watson – 12.58 100m, 19th D1 State 100m
Paige Westra – 59.7 400m, 42'5 Shot Put, 5th D1 State Shot Put
Allison Kuzma – 5:17 1600m, 11:07 3200m, 11th D2 State XC
Carrollton – From Division Three
Derrick Voltz – 11.03 100m, 23'2 Long Jump, 8th D3 State 100m, 12th D3 State Long Jump
Ferndale University Prep – From Division Three
Kingsley – From Division Three
Gage Hessem – 51.9 400m
True Beeman – 16.3 110mH, 42.7 300mH
Riley Brock – 48'9 Shot Put, 141'4 Discus, 10th D3 State Shot Put
Lauren Wooer – 62.9 400m, 48.4 300mH, 9th D3 State 300mH
Parchment – From Division Three
Garrett Winter – 4:19 1600m, 9:19 3200m, 2nd D2 State XC, 7th Indoor State 1600m, 4th D3 State 3200m
William Winter – 2:00 800m, 4:27 1600m, 24th D2 State XC
Redford Westfield Prep – From Division Three
Saginaw – From Division Three
Karim McCune II – 11.39 100m, 10th D3 State 100m
Shepherd – From Division Three
Zach Buckley – 15.9 110mH, 12th D3 State 110mH
Ariel Warner – 61.2 400m, 8'6 Pole Vault, 16th D3 State Pole Vault
Ellie Sickles – 17.9 100mH, 12th D3 State 100mH
Kendell Wilcox – 5'3 High Jump, 5th D3 State High Jump
University Prep Science and Math – From Division Three
Moving to Division Three
Almont – From Division Two
Mason Smith – 11.08 100m
Thomas Dyer – 11.55 100m, 12'6 Pole Vault
Drew VanDyke – 123'10 Discus
Devin Johnston – 12.70 100m, 26.60 200m
Montserrat Coronel – 15'5 Long Jump
Ann Arbor Gabriel Richard – From Division Two
Sunisthh Singh – 10:22 3200m, 32nd D3 XC State
Gianna Hoving – 5:31 1600m, 13th D3 XC State
Detroit International Academy – From Division Two
Detroit Leadership Academy – Didn't Have Track
Detroit Osborn – From Division Two
GR Covenant Christian – Didn't Have Track
Meghan Beute – 5:16 1600m, 10:50 3200m, 17:43 5k, 2x All-State XC
GR West Catholic – From Division Two
Tim Kloska – 11.51 100m
Luke Bailey – 17.1 110mH, 44.3 300mH
Thomas Bearden – 49'10 Shot Put, 14th D2 State Shot Put
Kyle Kloska – 48'4 Shot Put, 148'4 Discus, 9th D2 State Shot Put
Andrew McAlary – 20'9 Long Jump
Maggie Duba – 2:25 800m, 5:19 1600m
Ali Junewick – 12:02 3200m
Ally Olszewski – 15'10 Long Jump, 9'7 Pole Vault, 15th D2 State Pole Vault, 18th D2 State Long Jump
Lansing Catholic – From Division Two
Sam Matias – 19'10 Long Jump
Josh Otten – 2:04 800m, 4:27 1600m, 4th D3 XC State, 10th D2 State 1600m
David Pruder – 1:59 800m, 25th D3 XC State
Brianna Tennes – 104'11 Discus, 22nd D2 State Discus
CC Jones – 5:12 1600m
Hannah Pricco – 27.2 200m, 61.7 400m, 2x All-State XC, 12th D2 State 400m
Newaygo – From Division Two
Standish Sterling – From Division Two
Brayden Sullivan – 11.65 100m
Adrian Zettle – 17.6 100mH, 51.1 300mH
Lillia Arbuckle – 36'8 Shot Put, 88'9 Discus
Burton Atherton – From Division Four
Detroit Southeastern Tech – From Division Four
Ottawa Lake-Whiteford – From Division Four
Madelyn Thomas – 2:31 800m, 15th D4 State 800m
Annabelle Gapp – 49.2 300mH, 5th D4 State 300mH
Saugatuck – From Division Four
Benny Diaz – 10.85 100m, 21.68 200m, 51.58 400m, 14.24 110mH, 39.59 300mH, 20'5 Long Jump, Indoor 60mH Champ, 3rd NBIN 60mH, D4 State 110mH & 300mH Champ, 2nd D4 State 200m, 3rd D4 State 100m (basically, everyone from Division 4 boys sprints is breathing a sigh of relief)
Luke Gorgas – 2:09 800m, 12'0 Pole Vault, 6th D4 State Pole Vault
Casey Matthieu – 6'0 High Jump, 20th D4 State High Jump
Tristan Ashley – 4:44 1600m, 10:19 3200m, 8th D4 State 3200m
Adam Martinson – 4:31 1600m, 9:58 3200m, 10th D4 State 3200m
Cat Pond – 13.53 100m, 9'0 Pole Vault, 4th D4 State Pole Vault
Aerin Baker – 16.69 100mH, 5'0 High Jump, 16'8 Long Jump, 3rd D4 State Long Jump & 100mH, 7th D4 State High Jump
Moving to Division Four
Capac – From Division Three
Annabelle Schneider – 13.32 100m, 28.67 200m, 15'9 Long Jump
Dansville – From Division Three
Melvindale Academy for Business and Tech – Didn't Have Track
Michigan School for the Deaf – Didn't Have Track
Muskegon Western Mich. Christian – From Division Three
Jarron Childers – 22.84 200m, 10th D3 State 200m
Grace VanderKooi – D4 All-State XC 2021
Abby VanderKooi – 4x XC State Champ, 2:18 800m, 4:48 1600m, 10:02 3200m, D3 State 3200m Champ
New Life Christian Academy – Didn't Have Track
Orchard Lake St. Mary's (Girls) – From Division Two
Pontiac Academy for Excellence – Didn't Have Track
Sigma Academy – Didn't Have Track
Riverview Gabriel Richard – From Division Three
Andrew Cabalang – 11.92 100m, 24.14 200m
Alex Meszaros – 10:44 3200m, 14th D4 State XC
Rochester Hills Lutheran NW – From Division Three
Madeleine Barge – 5:33 1600m, 23rd D3 State 1600m
Mackenzie Lemke – 5:19 1600m, 11:40 3200m, 10th D4 State XC, 16th D3 State 3200m
Abby Rice – 62.1 400m, 2:29 800m, 30th D4 State XC, 18th D3 State 800m
Royal Oak Shrine – From Division Three
Wolverine – Didn't Have Track
Any College Signings?
You bet.
Samantha Wells (Zeeland West > Dayton)
Brian Langlois (Grand Rapids Catholic Central > Aquinas)
Kyle Ackerson (Novi > Kalamazoo College)
Gavin VanSolkema (Hudsonville Unity Christian > Ferris State)
Kelly Fielder (Hanover-Horton > Adrian)
Whitney Farrell (Freeland > Ferris State)
Mara Longenecker (Freeland > Michigan)
Spencer Mistele (Plymouth Christian Academy > Wheaton College)
Mikenna Borie (St. Louis > Saginaw Valley State)
Kaitriss DeGroft (Chippewa Hills > Alma)
Alyssa Detweiler (Cedar Springs > Aquinas)
McKenna Buehler (Grand Rapids Kenowa Hills > Aquinas)
Shelby Brant (Saginaw Heritage > Lake Superior State)
Anything Else?
Shepherd's Carly Judge received MITCA's Overcoming Obstacles Award and was profiled by The Morning Sun newspaper.
The WeRun313 crew had a radio spot on 107.5 detailing their program and they're hosting a Connect+Build event on Friday. In terms of urban running clubs in economically depressed areas, you're not gonna find a larger and friendlier group of people.
This summer, Adrian College will be home to the 2022 Midwest Olympic Development Track and Field Champ. Click here for more info.
The Traverse City Record-Eagle ran a nice piece about Hunter Jones and Mylie Kelly's races at NSAF Nationals.
The Corktown 5k, a Detroit tradition (it's a shame it's no longer a 4 mile race), was slowed by frigid temperatures and blustery conditions, but former and current Michigan students were not. Ryan Exell, who runs for U of M-Dearborn snatched the victory and former MRun studs Charlie Ro, Jacob Sjogren, and Andy Dingwall all were in the top-10. The best overall performance of the day likely belonged to Ferndale's Amber Dermyre, finishing in 19:04 as the top overall female.
It's finally nice outside. Get out there and run!