I've probably penned this point a few times in the past, but it's our March Madness in the run specialty industry. Warm weather + spring races + high school track brings in many customers. When you get a day off to write a bit, you take advantage of it, although keep in mind that my brain is a little fried at the moment. Hopefully there aren't too many errors…
Just How Strong Are These Standards?
The system of qualifying for the State Meet is well-established at this point. Top 2 at Regionals, then you better hit the additional qualifying standard. With the standard track times, unaffected by course variations that might occur in the fall, the MHSAA doesn't place so much an emphasis on regional assignments. These additional qualifying standards are meant to graduate a set number of athletes in each event to the State Finals, or at least attempt to.
The process for deriving the qualifying standards isn't spelled out on the MHSAA site, but if I remember a little intel correctly, they use the past few years times at regional meets to get a certain number of athletes to the State Finals. For instance, if 24 Division 1 boys run under 9:30 in the 3200m in each of the past three years, they'll move that standard down to 9:30. If our progress reverses and only 24 are able to break 10:00 in the next few years, that standard will increase. Obviously, this is an extreme example and my best guess at the MHSAA methodology, but what I'm getting at is that the standards are based on past performances of our great athletes.
I thought I'd compare the qualifying standards to the World Athletics tables in order to show which are the toughest standards, or from another angle, what we've performed best at relative to the world's elite. The qualifying standards should be equal in relation to the state of the sport in Michigan, but Michigan might have a different demographic compared to the World's larger sample. As with the MHSAA, the IAAF/World Athletics methodology is difficult to find, once again my guess is that they're assigning performance scores against years of performances. They're not meant to be used comparing across gender, but can be used comparing events within the same gender.
World Athletics Scoring Tables
I converted feet to meters and 1600/3200m to Mile/2 Mile in order to better align with the tables. I didn't include shot and disc because the implements are different weights at the world level. I didn't include 4×8 or 300h because those aren't listed in the tables.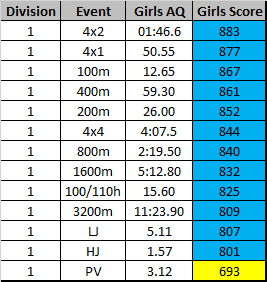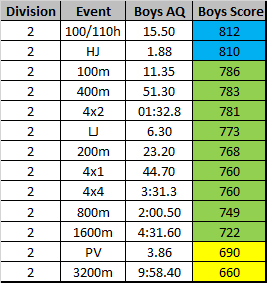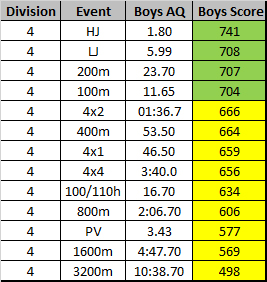 Trends: Relays are tougher. I surmise this is because it's much easier to find a relay team from a school compared to from a country. We have much more relays contested at the high school level than at the professional level.
The 3200m has been the weakest distance event. Could be because our aerobic systems in youth aren't fully developed? Perhaps the order of events plays a role, the 3200m coming after the two main distance events, if athletes ran it fresh, times might decrease.
Technical field events are ranked higher in lower divisions. With less numbers on each team, maybe coaches can spend more time teaching those events. Or are there better technical coaches at the lower levels?
If you wanted to take the analysis a step further, you could compare genders using the Mercier scoring tables. Plugging in the standards there, you'll find that boys sprints are tougher than girls sprints, jumps are about equal, and girls distance standards are much harder.
Shamrock Shufflin'
Post-college, there aren't many team competitions available for runners. Former athletes move into full-time positions, become adults, start families, and by consequence, team activities fall by the wayside. There are a few opportunities here in Michigan, you have Great Lakes Relay, Crystal Lake, Lake Lansing. Nationwide, you have Club Cross. In early spring, Chicago is home to the Shamrock Shuffle, a chance to harken back to those college cross days, racing the 8k distance, but now on the roads. Teams from Michigan that made the short trek west included Red Cedar Elite, Great Lakes Running Club, Hansons-Brooks, Playmakers Elite, and Working Man's
Hansons-Brooks took home the trophies in both the women's and men's fields. Natosha Rogers nearly set a club record with her 25:30, Zach Panning was in another kicker's race, barely sneaking under 23:00. The Hansons crew are my friends, their accomplishments well and good, and I write about them a ton, so I'd like to call attention to some others that are still kickin' it after all these years:
Johnny Crain – 22:57, 3rd. Former North Central legend and 4-time D3 National Champion. Ran a 2:15 marathon for ZAP Fitness a few years back and has battled a few injuries since. Now residing in East Lansing and running for Playmakers Elite.
Nathan Martin – 23:02, 4th. Jackson HS coach holds the fastest marathon time ever run by a Black man born in the United States (and if I recall correctly, the fastest by anyone that competed at the NAIA level in college). Ran for Three Rivers and Spring Arbor.
Zacc Widner – 24:12, 31st. One of the more genuine guys you'll meet, Zacc has been a part of the Michigan road racing scene for awhile now. Was part of an All-American DMR team and WHAC Champion 4×8 team while at Siena Heights.
Andrew Cusumano – 24:32, 46th.
Tony Floyd – 24:46, 55th. Took home the NAIA 10k crown last spring.
Michael Cox – 24:47, 56th.
David Evans – 24:52, 61st. Ran for Purdue's club team, now mixing it up with those that ran on D1 squads. In position to throw down a quality time in a few months at Bayshore.
Connor Mora – 24:57, 66th.
Joel Conn – 24:58, 70th.
Colin Riley – 25:20, 83rd.
Brendan Molony – 25:44, 102nd.
Libby Bigelow – 28:33, 20th. Competed for Central Michigan in the 2000s, took a few years off after collegiate running, then qualified for the 2020 Olympic Trials.
Rachel DaDamio – 28:55, 25th.
Charlotte Etienne – 29:20, 34th. Charlotte is an assistant cross country coach over at Kalamazoo College.
Sarah Brewer – 30:07, 52nd.
Allison Snyder – 31:04, 70th.
Barbara Powers – 31:04, 71st.
Allissa Folger – 31:15, 75th.
Emily Short – 31:29, 80th.
I guarantee if I write about this race in 2027, I'll have plenty to report back on the competitors and their backstories. It just so happens many here were prominent during a time where I didn't follow running as much.
You can find the entire results here.
Other Michigan Races
Rock CF Rivers Half-Marathon/5k
Grosse Ile, March 20th.
Results
WOMEN'S HALF MARATHON
1. Sydney Devore – 1:21:14. In the elite field at Boston.
2. Ariane Hendrix-Roach – 1:23:06
3. Katie Lakin – 1:23:53
4. Brittany Galisdorfer – 1:24:51
MEN'S HALF MARATHON
1. Jon Priebe – 1:13:30
2. Scott Smith – 1:14:00 (Warren Mott, Macomb CC)
3. Ben Peterson – 1:15:03 (Aquinas, Charlevoix)
WOMEN'S 5K
1. Mami Kato – 21:12
MEN'S 5K
1. Jesus Moreno, Jr. – 18:46
Run For the House 5k
East Lansing, March 20th
Results
WOMEN'S 5K
1. Keina Megginson – 20:26
2. Khloe Lehnst – 20:48 (Future Ithaca star?)
MEN'S 5K
1. Jon Gries – 16:26
Clare Irish Festival 5k/10k
Clare, March 19th
Results
WOMEN'S 10K
1. Katie Boyce – 41:46
MEN'S 10K
1. Brian Venglar – 39:59
WOMEN'S 5K
1. Sophia Buzzelli – 19:57 (Future Clare star?)
2. Abigail Robinson – 20:56 (Future Gladwin star?)
MEN'S 5K
1. Rick Cahoon – 15:49 (an ageless wonder)
2. Brad White – 16:14 (Clare)
3. Abe Ranck – 17:43
4. Bryce Cahoon – 17:44 (Future Shepherd star?)
Spectrum Health Irish Jig 5k
Grand Rapids, March 19th
Results
WOMEN'S 5K
1. Mary Munanu – 16:00 ($750)
2. Samantha King – 17:18 ($400)
3. Melissa Winchester – 17:24 ($250)
4. Kaylin Russeau – 17:47 ($150)
5. Kimberly Proctor – 17:54 ($100)
MEN'S 5K
1. Mitchell Klingler – 14:41 ($750) (Bronson, Albion)
2. Alex Russeau – 14:47 ($400)
3. Andrew Benkovksy – 14:55 ($250) (Eaton Rapids, Olivet)
4. Jesse Becker – 15:02 ($150)
5. Connell Alford – 15:21 (Chelsea, sadly this young buck can't receive prize money!)
6. Tom Windle – 15:23
7. Lezawe Osterink – 15:31 (The Potter's House)
St. Patricks Day 5k/8k
Bay City, March 19th
Results
WOMEN'S 8K
1. Maggie Retelle – 32:10
2. Linda Humpert – 34:09
3. Sara Keough – 34:18
MEN'S 8K
1. Chris Reischel – 25:25
2. Nate Bussiere – 25:30
3.       Trevor Thiebaut – 27:13 (Cadillac, Aquinas)
College Signings
Kylea Braman (Ithaca > Lansing CC) I know I give a ton of praise to Ithaca, I love other programs too. But it's telling that a good number of their seniors, seemingly a majority, go on to run in college. Not just about the talent, there's a love for the sport as well.
Chloe Vines (Detroit Renaissance > Alabama State)
Makayla Williams (West Bloomfield > Saginaw Valley State)
Eli Baumann (Allendale > Purdue Northwest)
Isaac Stone (Traverse City West > Central Michigan)
Chaniya Madison (Bridgeport > Saginaw Valley State)
Emma Collison (Milford > IPFW)
Abby Bonnema (Holland West Ottawa > Michigan) A house divided.
Amanda Usrey (Anchor Bay > Rochester)
Janiyah Hopkins (Hamtramck > Aquinas)
Kierra Flegel (Kent City > Grace Christian)
Matthew Crowley (Midland > Saginaw Valley State)
Hayden Buck (Menominee > Michigan State)
Anything Else?
Hartland's Alexander Yon broke a 32-year-old state record in the 200m at adidas Nationals. His mark of 47.75 knocked 0.12 seconds off Darnell Hall's previous record.
Steven Bastien (Saline, Michigan) finished 6th in the Heptathlon at World Indoors. If you may recall, he finished 2nd in the Decathlon at last summer's Olympic Trials.
The Holland Sentinel wrote a piece detailing Abby Bonnema's commitment to Michigan.
MLive wrote a similar article about Faith Smith. Her and I have spoken quite a bit, but I didn't know she had that long of an injury list following her 2020 cross campaign. Just makes the comeback all the more impressive.
Oakland University has added the Elaine Leigh Invitational to their schedule. The meet will be held on Friday, April 22nd and will feature the 800m, 1600m, 3200m, and 4x800m.
For her senior capstone class, Romeo's Rachel Felstow is researching the effect of super shoes on performance. Help her out here by getting some good numbers for her survey!