I hope this newsletter finds you well. Not stuck in the snow, in a traffic jam, plowed into your driveway. Perhaps on a snow day? Work from home? After a long, aerobic, shoveling session?
Michigan At Millrose
The indoor track season unofficially kicked off this past Saturday at the Millrose Games.  Michiganders from the high school, college, and pro levels were able to race.  Just as last week, a chart showing their results (I live in charts):
Traveling to New York and competing on the big stage is significant enough, but I was particularly impressed by two performances.  Kaila Jackson (Detroit Renaissance, Track Life University) set the meet record in the High School Girls 60m with a 7.31.  She is definitely a queen in the starting blocks, an advantage for the short sprints.  Her 10m split is on par with the pros, and if she can gain late race stamina, expect to see her in the pro races in a few years.
Morgan Beadlescomb is one of the more slept upon collegians.  The NAU, BYU, and Oregon guys might receive more publicity, but ask me if there's one male that'll be there in the indoor or outdoor championships, my bet is on him.  The guy sticks his nose in every race and was every bit apart of the 3000m on Saturday.  It would have been easy to hang off the back and get pulled to a fast time.  After the first few laps, Morgan was consistently in 7th-9th place, before he pulled off a 7th place finish.
Nick Willis, aided by his Very Nice (fitting) Track Club training partner, Hobbs Kessler pulled off a milestone achievement, 20 consecutive years of sub-4:00 miles. This New York Times piece by Scott Cacciola is a worthy read. I appreciate what seems to be Nick's future plans with the VNTC. We saw over at Hansons how Mike Morgan was a father figure to many in the group, someone who had gone through the training and could lend advice if need be. I have a feeling Nick will succeed in that role with VNTC for years to come.
Bring On the Warmth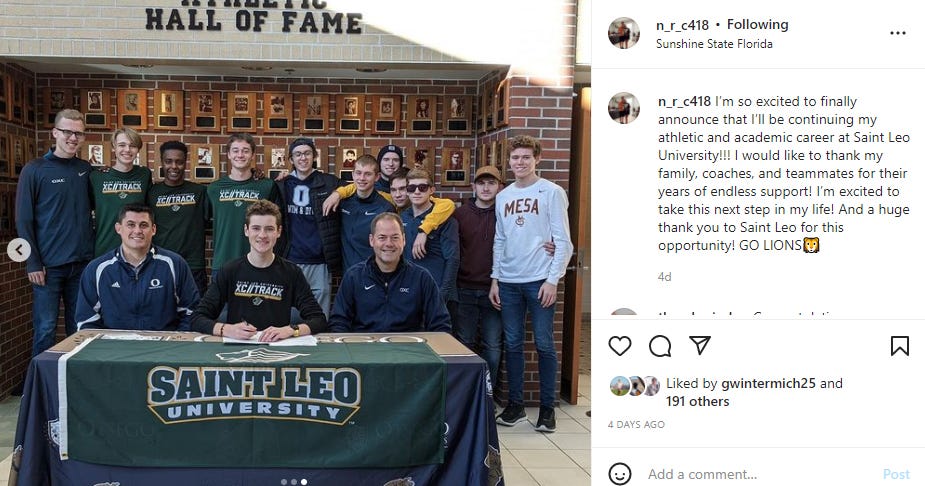 Given the upcoming Snowmageddon, who can blame our athletes for taking their talents to the Tampa and San Diego beaches? I love that the Otsego athletes spreading their wings far and wide, I feel placed in an unfamiliar environment far from home can bring immense growth.
Nick Cockerel (Otsego > Saint Leo)
Maggie Duba (Grand Rapids West Catholic > San Diego)
Liam LeBlanc (Utica Ford > Lourdes)
Alison Doerr (Grand Haven > Concordia)
Gavin Hamilton (Flint Powers Catholic > Lourdes)
McKenna Marsh (Manchester > Jackson College)
Katelynn Dix (Grand Traverse Academy > Cornerstone)
Or Travel North to the Cold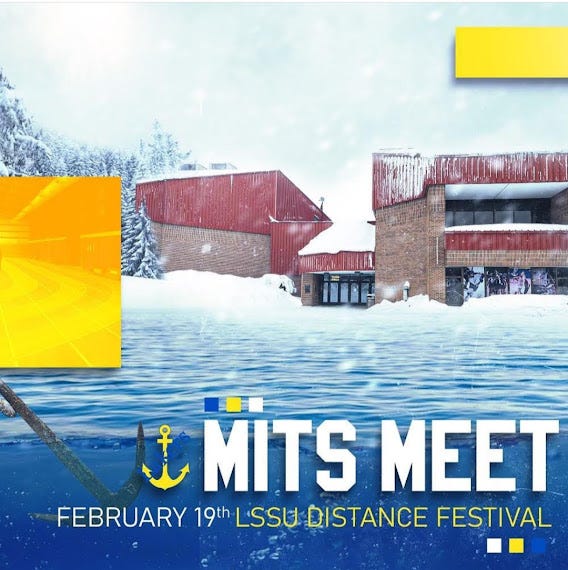 How long has it been since the last MITS meet in the Soo?  Four years, according to my YouTube research.  One can appreciate new coaches coming in and immediately doing work to promote the program and fitness in their area.  One thing I'll never understand (*cough* Macomb CC *cough*) is having an indoor track, but not using it to your advantage.  But I digress, Lake State is giving opportunities for those in the northern reaches of the state for some indoor experience.  Sign up info HERE.
The Elite Mile
A few weeks back, we were hit with unfortunate news when Grand Valley/Gazelle had to cancel their Elite Mile.  With many on campus sidelined with COVID, finding enough volunteers to help produce a meet is tough.  And to be honest, I forgot the event would even occur.  But it did and wow did it speak to our depth.  NINE boys under 4:20. Keep in mind only 20 years ago, 4:17 WON the D1 State Title.  This year, 4:17 might not even get one on the podium.  FIVE girls under 5:00, with an additional three under the conversion to 1600m.  I should also mention Grand Haven's Seth Norder now holds the sophomore class record for the mile.  RESULTS
Pay That Man His Maney
Whoever is in charge of the Ryan Shay Mile Instagram account is doing some serious work.  As I pen this on Tuesday night, a new announcement came across my feed.  PRIZE MONEY.  The image says it all.  While high school folks would be ineligible, this may be an opportunity for others. I'm not sure how it would work with the whole NIL thing, my guess is that it's not compatible.
Awards and Records
CarLee Stimpfel nabbed GLIAC Athlete of the Week honors with his 8:07 3k at the Jets Pizza Invitational.  Alona Olshevska completed the SVSU sweep on the girls side.  She won both the 200 and 400 over the weekend and sits in the top-10 in Division 2 for both events. 
At the same meet, Northwood's Zane Aldrich considerably dropped the Timberwolves' school record in the 3k. His 8:14 took nearly 10 seconds off and hit the NCAA provisional mark.
I guess it's just 3k day here. Calvin's Sadie Heeringa and Brandan Knepper each broke the Knights school record in the event. Sadie's 9:41.3 gives her the #2 time in the nation and Brandan's 8:24.4 comes in at #16.
Sam Sharnas (Holland Black River) set a Citadel school record in the 5k with a time of 14:47 at the South Carolina Invitational.
Notes and Anecdotes
Grand Rapids Distance Elite's Kimberly Proctor (née Buskirk, Montabella-Blanchard HS) captured 1st place in the 5k at GVSU's Bill Clinger Classic.  I found out about this group while doing my weekly research and browsing.  The group appears to be based in Grand Rapids and focuses on post-collegiate opportunities for women. Find out more about the group on their instagram page.
Five Hansons-Brooks athletes are taking to the streets of New Orleans in this weekend's Rock N' Roll Half Marathon.  Jack Mastandrea, Anne-Marie Blaney, Wilkerson Given, Megan O'Neil (Chippewa Hills, CMU), and Ben Kendell (Royal Oak Shrine, Detroit-Mercy) will be looking to hit PBs and gain momentum into a spring buildup for the Ottawa Marathon.
As with Arianne Olson last week, Riley Hough was named Gatorade's Michigan Cross Country Player of the Year.  Sadly, I'm gonna be that guy.  Cross country runners aren't players. 
Port Huron hosted their annual PoHo Hot Cocoa races this past weekend.  Marysville's Brock DenUyl exhibited a great deal of strength, winning the 10 mile in a time of 58:43.  Quite a different approach than many others, concentrating on the aerobic end of his range, hopefully setting up for some success in distance events during track. 
Chelsea girls cross country coach Pat Clarke has stepped away after a whopping 51 years at the helm of the Bulldogs.  By my count, his teams have finished in the Top-10 at State 21 times, with a state title coming in 1989.